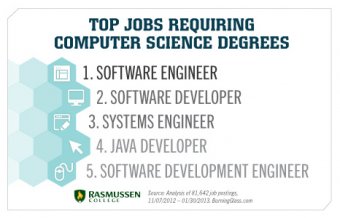 On 3/5/2013
Now that you've decided to go back to school, the easy part is over right? Not necessarily. Unfortunately, the tough decisions have only just begun. You're going to find yourself having to answer some difficult questions.
Which degree is right for you? Which school offers the best program? How will you be able to afford your tuition?
Going back to school can be overwhelming but just relax, take a deep breath and let's take it one step at a time. First and foremost, you've got to choose the degree you want to earn.
While the two may seem similar on the surface, they are fundamentally different in nature. It's important to have a comprehensive understanding of each so you don't waste a lot of time and money preparing for the wrong career.
This first installment in a four-part series on computer science versus information technology debate will provide you with an overview to help you understand the basics of each discipline.
Once you have an idea of which path is right for you, you can invest more time examining your specific field of choice.
The basics of computer science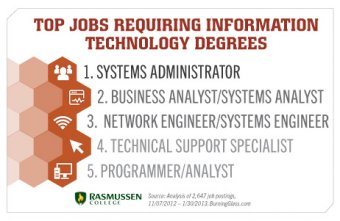 Computer Science is: "The study of computers, their design and their uses for computation, data processing and systems control, " according to the dictionary. This includes programming and the design and development of computer hardware and software.
In simple terms, computer science refers to the processes of creating usable computer programs and applications and the theories behind those processes. An employee in this industry will likely be doing a lot of independent work applying complex algorithms and writing code.
What can you do with this degree?
With a degree in computer science, you have several options for occupations. The following table highlights the five most common job titles for those holding a computer science degree.
Main takeaway:
Computer science is deeply rooted in mathematical algorithms and programming.
The basics of information technology
Information technology (IT) is: "The technology involving the development, maintenance and use of computer systems, software and networks for the processing and distribution of data, " according to the dictionary.
Unlike a computer science associate who often works unaided, IT professionals are more likely to interact with others—whether in person or via phone or email—while helping solve technological problems.
Information technology focuses on assisting others in implementing solutions to practical problems using modern technology.
The bottom line...
So now that you have a better understanding of the difference between a career in computer science versus information technology, you can start to get a feel for which degree better aligns with your interests and, ultimately, your future. Once you've checked that question off your list, you'll be one step closer to achieving your goal of going back to school!
Now that we've covered the basics of computer science vs. information technology, stay tuned for the next three articles in the series, which will compare skills needed, salary information and job outlook for each.
External links provided on Rasmussen.edu are for reference only. Rasmussen College does not guarantee, approve, control, or specifically endorse the information or products available on websites linked to, and is not endorsed by website owners, authors and/or organizations referenced.
Callie is a Content Marketing Specialist who writes helpful and encouraging career-focused content on behalf of Rasmussen College. Her eagerness for helping others combined with her creative writing passion makes her a great asset to past, present and prospective learners.
Source: www.rasmussen.edu
Share this Post