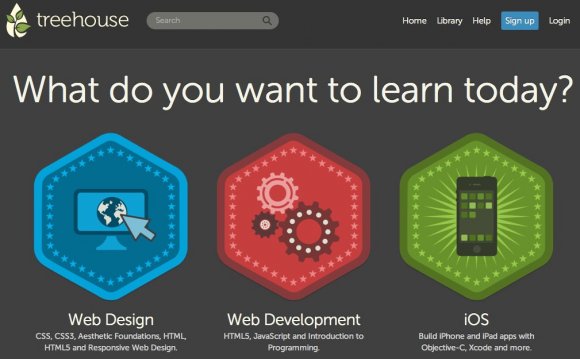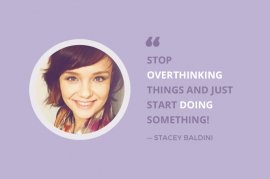 You know that the Web is the place for you, you need an online portfolio, and you want to become the web designer that everyone is dying to hire.
But are you all talk and no action? Frozen with fear at even the thought of trying to get into tech? Freaked out about everything there is to learn?
Or have you been MEANING to get to those online coding tutorials for…well…for months?
Just a few weeks ago, Skillcrush Web Designer Blueprint graduate Stacey Baldini felt the same way you do. Now, she has designed, coded, and launched staceybaldini.com – a site that we'd all love to call our own! And Stacey is well on her way to unicorn status (i.e., she is combining her traditional graphic design skills with coveted coding chops to become a master of digital design and development). Graphic design + web design = rare and glorious combination all in one person.
And good news! You can do it too! Just like Stacey, you can get over your doubts and take control of that career you've been dreaming of. Here are her 3 steps to getting out of the "I really should learn web design" phase, and moving into the "look at the site I just built" phase:
1. Get moving!
When Stacey studied graphic design in college, web design wasn't really covered. "It was just an afterthought in our projects, and I felt like that area was severely lacking in my design education, " she says.
Stacey had taught herself some HTML and CSS back in the days of using tables for layout. But she soon realized that her skills weren't up-to-date and felt overwhelmed by all there was to learn.
She got motivated to dig into tech after attending a talk by pioneering responsive design company Happy Cog's Yesenia Perez-Cruz and Alison Wagner.
Stacey was impressed with how intelligent these women were and "how they were kicking butt in the tech scene". But, even though she wanted to start creating her portfolio website, she was anxious and unsure about where to start.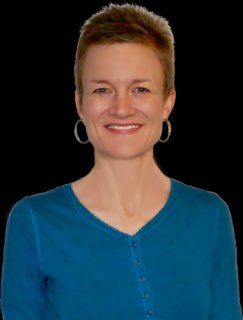 "I did a lot of research and thinking about things but not actual doing."
But, instead of sitting still or giving up, she decided to join the Skillcrush Web Designer Blueprint. And, as she says, "Skillcrush gave me the confidence to get moving."
In other words, sometimes you just have to dive in and do it.
2. Keep getting better!
Before the Skillcrush Blueprint, Stacey says "I had been designing and redesigning [my site] over and over with nothing to show for my work in the end. I would create designs too complicated for me to code with my skill set at the time and end up getting frustrated."
Now, after the Blueprint, Stacey reports that, "I have a starting point to progressively enhance [my site] and give myself little 'wins' to encourage me to keep getting better. All in all, I now feel like I have the confidence to keep moving forward."
Making sure that you finish products and projects means you have milestones for getting better, and it also gives you something to show for all that hard work. Working at skills one step at a time comes with 2 rewards: a stocked portfolio + tons of confidence to keep going.
3. Stop overthinking!
Stacey describes her Skillcrush Blueprint classmates and instructors as "so positive", which she says "helped keep the vibe light and friendly instead of scary."
In fact, Stacey had such a good time at Skillcrush that she tells us that she'd "love to come back for the Skillcrush Web Developer Blueprint and the Skillcrush Freelance WordPress Developer Blueprint as well. With Skillcrush, I know I will be in a class with a bunch of people that aren't going to be judgmental and will make learning fun!"
Source: skillcrush.com
INTERESTING VIDEO
CIW Web Design Course from Home Learning College- Henrique ...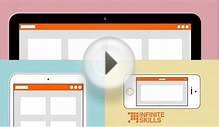 Udemy - Learning Responsive Web Design!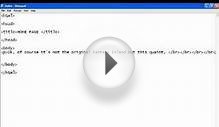 learn web design,HTML part3.mp4
Share this Post