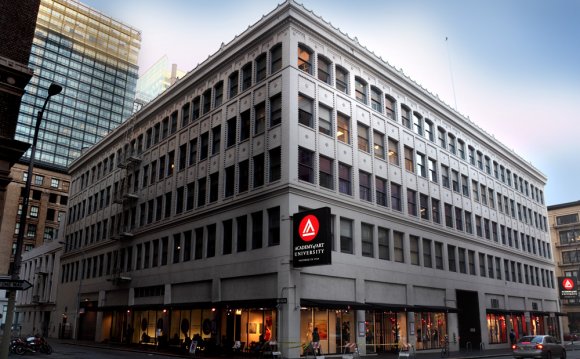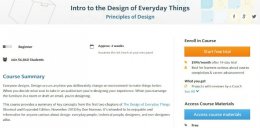 In our increasingly visual world where listicles need pictures and people can't pay attention for more than a moment, graphic designers are becoming even more essential. It's a rewarding career for anyone who wants to produce successful content for marketing efforts or websites. You can also make around $45, 000 from just an entry-level position. The problem is that most colleges don't offer majors specifically for graphic design. Even if they did, not everyone can afford the average $9-30, 000 it costs each year depending on whether or not you go to a public or private university. So, how are you going to get the skills while still spending a reasonable amount of money and time?
Fortunately, one of the greatest things about learning graphic design is that all you need is a computer and some programs like Photoshop, Illustrator, InDesign, Acrobat, etc. You don't need to go to class and fall into debt by paying college tuition. Employers want to see a strong portfolio above all and the foundation for a strong portfolio is solid skills. Time to develop those skills with online graphic design courses! In fact, we formed our course selection based on several essential skills you may need as a graphic designer: Adobe Software (the programs we mentioned), Typography, and basic HTML & CSS.
[cm:1306]
General
This free course is a great way for aspiring graphic designers to build a broad foundation for later skills by understanding design in general. It will only take 2 weeks of your time if you put in around 6 hours/week. Don Norman, a former VP at Apple, created the virtual textbook for the course and acts as lead instructor. The course also includes instructional videos, exercises, and projects. Get ready to join over 52, 000 other students if you're ready to begin your journey to a career in design!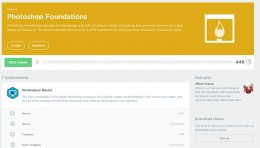 This short (under 20 minutes) series of videos take a "software independent" look at key elements in graphic design such as anti-aliasing, letter spacing, linear perspective, and more. Like the previous course, this series offers a foundation you'll need for software skills and other more advanced skills. A basic subscription to Digital Tutors will cost $29/month if you want to watch these videos and hundreds more.
Photoshop
When you sign up for Treehouse for $25/month (or $49 for the pro-membership) or take advantage of their 14-day free trial, you'll get access to hundreds of courses with a combination of video instruction and interactive elements like quizzes and challenges. Learning Photoshop is no exception since Treehouse walks you through key Photoshop features like layers, masks, type tools, etc. while quizzing you occasionally so you retain the information.
Join almost 90, 000 students in watching 10 hours of content that will teach you the essentials of Photoshop! This course takes a different approach than Treehouse by focusing on Adobe Bridge, camera raw, and other features before touching upon masks, layers, filters, and more. $25/month will get you a basic membership so you can take this course and have access to Lynda.com's extensive library of tutorials.
26 lessons over the course of nearly 4 hours will show you how to use Photoshop while designing a website. Instructor Craig Campbell demonstrates this by designing a website while teaching you how to integrate coding and Photoshop skills. After putting down the for this course and finishing it, you'll be able to produce your own beautiful website using Photoshop and basic coding.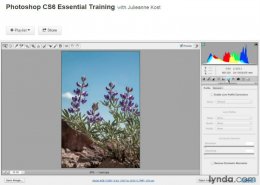 [cm:1737]
Illustrator
For 5 this course, led by instructor Sherry London, will give you 6 weeks of Photoshop training. Illustrator is all about using the Pen tool to draw and color so be sure to spend lots of time practicing! Each lesson will challenge you with an assignment testing your creativity and mastery of the skill.
This course is for graphic designers who want to move beyond the beginner level when it comes to their Illustrator skills. Instructor Corey Barker spends almost 2 hours demonstrating innovative ways to get more value from features you may have underestimated like image brushes and pattern makers. Kelby One has several membership plans starting at $25/month so consider how many skills you may want to earn.
Note: Both Treehouse and Lynda also have excellent Illustrator courses with the same formats we mentioned for their Photoshop classes.
InDesign
This course will give you 22 videos over the duration of two sessions. Session 1 starts with basics: elements, graphics, color, and text. Session 2 gets into text wrapping, paragraph format, tables, layers, libraries, and more. They combine to give you an in-depth InDesign experience that starts at beginner level but progresses into intermediate. The price is 99$ right now.
Note: Both Lynda and Tuts+ have InDesign courses worth checking out
Acrobat
As usual, Lynda.com has an excellent and up-to-date resource for learning another key component in graphic design. Acrobat (which includes Reader) will help you deal with PDFs and other multimedia that act as part of our global medium for visually expressing ideas.
You'll get over 6 hours of video content and 58 lessons with this course. It covers the latest version of Acrobat and goes beyond simply manipulating and creating PDFs. Instructor Michael Hoffman will show you how to combine files, integrate multimedia, and insert 3D content and backgrounds. Is 100$ for a skill like this worth it? We'll let you decide.
Typography
Color, contrast, and scale are the three pillars of effective typography. If you can learn and eventually perfect all three, you'll be able to imbue anything you design with stellar typography. This course walks you through the foundation of typography with simple video tutorials from Instructor Ina Saltz.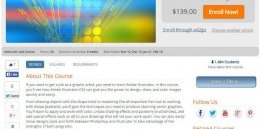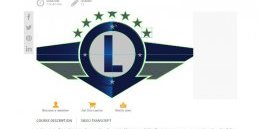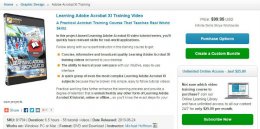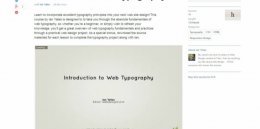 Source: www.skilledup.com
Share this Post